4 minutes to read
Chester Bennington, the powerful lead singer of platinum-selling rock band, Linkin Park, has passed away today. He was aged 41.
Spokesperson Brian Elias, the chief of operations for the Los Angeles County coroner's office confirmed Bennington's death at Palos Verdes Estates, a coastal town in LA. It is being investigated as a possible suicide.
Bennington was well-known for his strong vocals, especially his piercing screams which feature across seven Linkin Park albums, including the iconic Hybrid Theory and Meteora. Their most recent album, One More Light was released in May, and the band was to perform in Massachusetts later this month.
"Chester Bennington was an artist of extraordinary talent and charisma, and a human being with a huge heart and a caring soul," Warner Brothers chief executive and chairman Cameron Stang said in a statement.
Many fans and fellow artists, including Linkin Park co-founder, Mike Shinoda, My Chemical Romance, You Me At Six and Jimmy Kimmel are paying tribute.
Shocked and heartbroken, but it's true. An official statement will come out as soon as we have one.

— Mike Shinoda (@mikeshinoda) July 20, 2017
Chester was one of the kindest men I've had on my show. My heart breaks for his family and friends. He will be missed terribly.

— Jimmy Kimmel (@jimmykimmel) July 20, 2017
Our thoughts are with Chester Bennington's family & all of Linkin Park at this remarkably difficult time. A voice of a generation. X

— You Me At Six (@youmeatsix) July 20, 2017
We are deeply saddened by Chester's death. We loved him. Our condolences to Chester's family, Linkin Park, and all of their loved ones.

— My Chemical Romance (@MCRofficial) July 20, 2017
"Linkin Park"
Gone too soon but will never be forgotten. pic.twitter.com/MUtbBeDOur

— ْ (@Frexyxa) July 21, 2017
When you're feeling empty
Keep me in your memory
Leave out all the rest – Linkin Park 😭💔#RIP Chester Bennington. pic.twitter.com/FSp83oLXKC

— Sheildon Mikko 🥀 (@NirvanaStar1998) July 21, 2017
It is noted that Bennington's death falls on the 53rd birthday of his friend and fellow musician Chris Cornell, who committed suicide earlier this year.
The singer wrote a letter he uploaded onto Instagram, responding to his friend's sudden passing. "I can't imagine a world without you in it," he said. "I pray you find peace in the next life."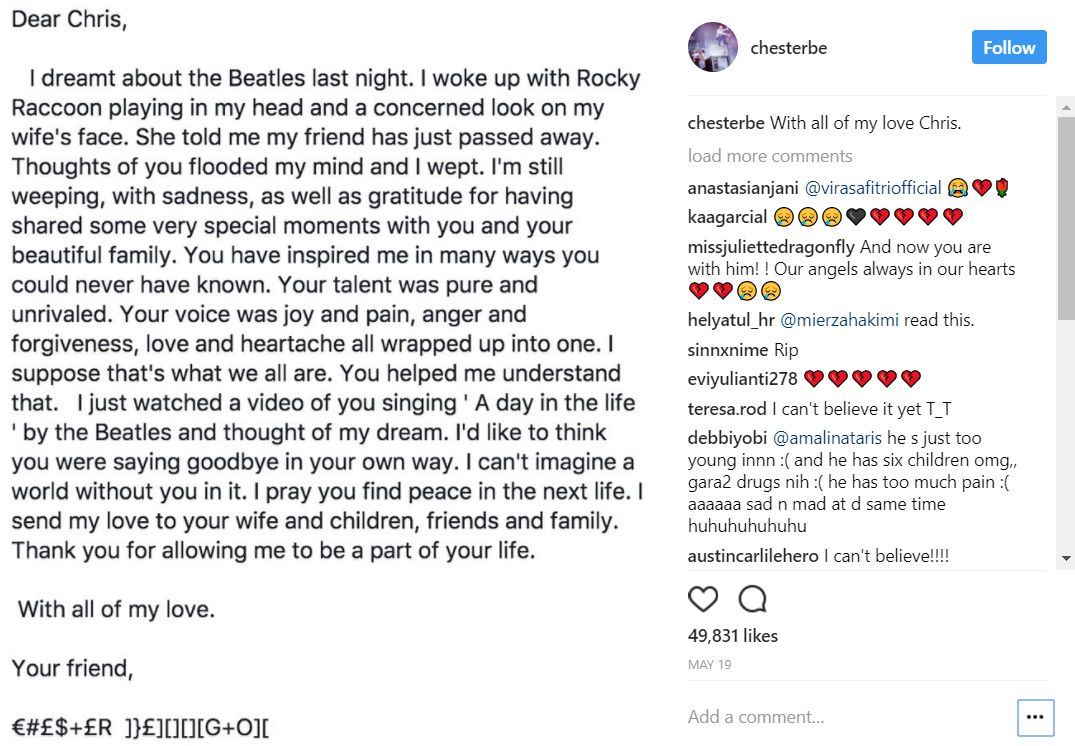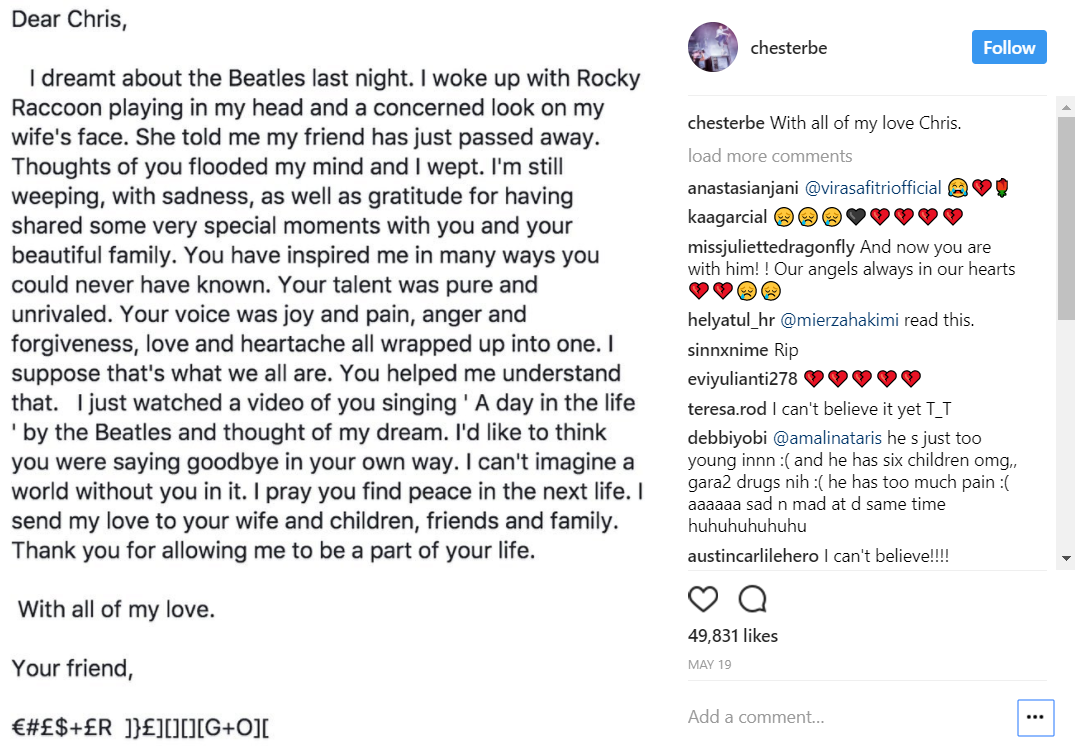 Bennington was also transparent about his struggles with drugs and alcohol as is evident across Linkin Park's albums. In a 2009 interview with Noisecreep, he stated:
"'Crawling,' for example, by Linkin Park, is probably the most literal song lyrically I'd ever written for Linkin Park and that's about feeling like I had no control over myself in terms of drugs and alcohol. That feeling, being able to write about it, sing about it, that song, those words sold millions of records, I won a Grammy, I made a lot of money. I don't think I could've been inspired to create something like that by watching someone else go through that. So in a lot of ways that's been very constructive for me."
He goes on to say:
"I don't have a problem with people knowing that I had a drinking problem. That's who I am and I'm kind of lucky in a lot of ways cause I get to do something about it. I get to grow as a person through it. It's kind of a cool thing. It's not cool to be an alcoholic, meaning it's not cool to go drink and be a dumbass. It's cool to be a part of recovery. This is just who I am, this is what I write about, what I do, and most of my work has been a reflection of what I've been going through in one way or another."
The legacy Bennington leaves behind is enormous. With