4 minutes to read
The title says it all, my friends. With the premiere of the new season of Game of Thrones less than a month away, the blessed execs over at HBO have decided to sate our appetites for juicy GoT footage by releasing a new trailer that's got everyone here at Chattr excited AF.
It looks to me like season 7 promises more large-scale action scenes than any previous season. The penultimate season is really ramping things up with less 'scheme-y scheme' and more 'stabby stab'.
For those who haven't yet feasted their eyes on the new trailer, have a look below:
Now if you want to go into the season fresh-faced knowing nothing like Jon Snow or (SHAME ON YOU) haven't caught up on previous seasons look away now!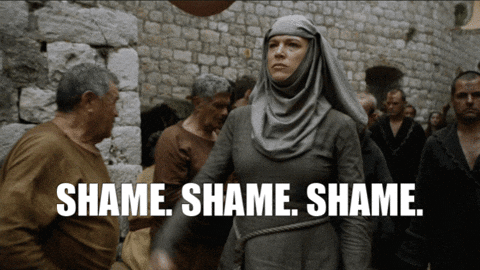 The trailer opens with the let's-get-sh*t-done Sansa Stark (Sophie Turner) walking away from the Winterfell godswood (Looking apprehensive? We'll have to wait and see.)
Meanwhile, Littlefinger (Aidan Gillen) whispers some helpful (but ominous) advice: "Don't fight in the north or the south. Fight every battle, everywhere, always in your mind."
We then cut between Season 7's key players in their respective locales.
Jon Snow (Kit Harrington) 'da king in da norf', Cersei Lannister (Lena Headey) 'Queen of the Seven Kingdoms' and Daenerys (Emilia Clarke) of the House Targaryen, First of Her Name, the Unburnt, Queen of the Andals and the First Men, Khaleesi of the Great Grass Sea, Breaker of Chains, and Mother of Dragons who appears to have brought her army to her ancestral home of Dragonstone.
Again, in quick succession we see flit between Arya Stark (Maisie Williams), Jaime Lannister (Nikolaj Coster Waldau) and Littlefinger who is peeking out from the shadows.
HBO really knows how to tease its fan base because I instantly want to know: has Arya just arrived at Winterfell? Where is Jaime off to? AND Where the f*** is Littlefinger and what is he planning? That man has been central to the whole plot of the series so far (he practically set the whole course of events in motion) so we'll have to keep a close watch on him.
We hear Jon making a valid case for rallying the banners telling the Northern Houses:
"For centuries, our families fought together against their common enemy. Despite their differences, together. We need to do the same if we're going to survive. Because the enemy is real, it's always been real."
As the trailer showcases Daenerys' dragons, we have fleeting moments with Tyrion Lannister (Peter Dinklage) Theon Greyjoy (Alfie Allen), Grey Worm (Jacob Anderson), everyone's fave duo: Brienne of Tarth (Gwendoline Christie) and not-so-bumbling squire Pod (Daniel Portman), and The Hound (Rory