3 minutes to read
Mugzy – the hip-hop artist originally from Cronulla, has been writing and rapping for the last twelve years.
Born Reyne Brady, the 25-year-old developed a love for the honesty, grit and power of hip-hop from a young age. As a teenager he was bullied, struggling with deep internal stress and depression. But in this dark period he was inspired by the music from his idols: Eminem, Tupac, and Biggie. Their fiery, raw messages inspired him to draw upon his own experiences, turning the pain into art.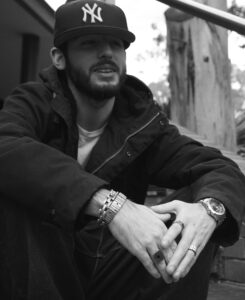 With a third album underway, Brady discussed his future plans, volunteer work, and determination to make it in the cut-throat industry. He is chatty, warm and sincere, in many ways the opposite of the  insecure, stressed young man he was.
The stage name 'Mugzy' is inspired by the character Muggsy in Soul Plane. "I saw a lot of similarities between myself and his character", Brady admits. Mugzy is perhaps an armour, granting the musician a toughness. An alter ego where he can channel his energy, at times frustration, but most importantly, his passion and dedication to his craft.
He cracks a smile when reflecting on his beginnings.
"My brother and I always used to love playing our Eminem cd's, and mum would whoop our asses for playing it – because we weren't meant to be listening to it!

"In high school I wasn't focused on studying … you get a lot of people asking you what you're going to do after school and I didn't know. I started listening to more artists, like Eminem, and thought …I could do this."

Around that time I had FOXTEL, and in the early thousands (00's) MTV was pushing it so much, which fuelled my love for it."
In 2011, he released his first album Ride or Die, which was heavily influenced by crime, violence and gang-culture, a far cry from his relaxed upbringing on the central coast.
"I grew up in a time when gangsta rap was massive, being a white kid from the burbs … what was I thinking, starting the game writing about things I never really did?"
However, it was a learning curve, "I started realising there's more to hip-hop than that and I started blending that with my own experiences."
"At first I started dropping small rhymes, but I knew if I wanted to progress I would have to write more songs which led to my second album, and this has led to where I am now," he explains.
When he's not writing and performing, he takes immense joy in giving back to the community, working with Musicians Making A Difference (MMAD), an Australian charity that strives to change lives of disadvantaged youth through music.
"They saw the work I was doing and asked me to come in as a teacher on a volunteer basis. So I'm back-and-forth helping with the teenagers who come in, they come in