Warning: Includes spoilers!
This week, our psychic Stark boy is back, Ramsay Bolton proves once again he is crazy, and an update on Jon Snow's cold condition.
So, Bran is back! The newest episode of Game of Thrones kick starts with Bran walking in a flashback with the Three Eyed Raven at Winterfell during his father, Ned Stark's youth. The Bran we knew in season 4 is now considerably older and sporting a trendier haircut. The playful swordfighting between Ned and Benjen Stark are interrupted by Lyanna Stark riding in on her horse.
This is the first time we see Lyanna on screen aside from a commemorative statue. And can we just take a moment to cherish that Hodor used to be talkative and called Wylis? When pulled out of the flashback, the Three Eyed Raven warns Bran about drowning in visions to which he replies, "I wasn't drowning. I was home".
The scene cuts to outside the tree cave where Meera Reed sits in the snow. She has grown frustrated with being cooped up in the cave and still mourns the death of her brother. "It's not safe anywhere," she tells Bran. A moment later, the Child of the Forest informs her that Bran needs her now more than ever.
At Castle Black, it goes from 0 to 100 real quick. While Jon is still 10/10 dead, just as Thorne is about to whoop Ser Davos' ass (he did say "I'm not much of a fighter"), the wildlings destroy the gate and attack the Night's Watch until they surrender. I've never been so happy to see Thorne being dragged away to the cells like the animal he is.
Now, I forgot how hella strong Ser Robert Strong is. Just casually killing a man by slamming his head into a wall is a little too intense for me after breakfast.
In the Red Keep, King Tommen is getting on my nerves. He orders his guards to refuse his mother entry to Myrcella's funeral. Who does that? Oh wait… Maybe Joffrey?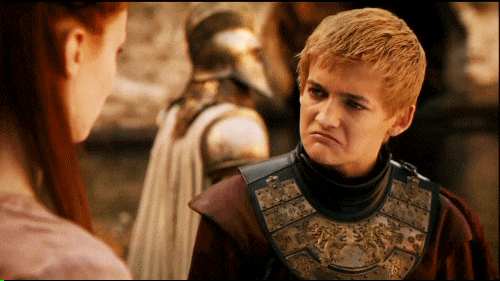 At the funeral, Jaime has a man-to-man chat with Tommen, who feels like he has failed after doing nothing during Cersei's shame walk. Jaime offers some support with "We all fail sometimes" and urges him to see Cersei. As Tommen leaves, the High Sparrow waltzes in and Jaime threatens to kill him. Just as we're about to see some action, the Sparrows surround Jaime and he is left with a chilling message from the High Sparrow: "We are no-one… Together we can overthrow an empire."
Tommen tries to smooth things over with Cersei by admitting he felt weak and powerless while she was away. "You raised me to be strong," he says to his