Similarly to LunchMoney Lewis, we've all got bills 'we gotta pay' and many of us "work work work every day." However, I'm surely not the only shoppoholic who would rather spend my hard earned dosh on a fresh new pair of Windsor Smith's, a pretty new blouse, or yet another Mimco pouch that I definitely don't need… (according to my boyfriend.) But sometimes our spending can get a little out of hand, and we aren't making the wisest decisions online. Perhaps buying wrong sizes, spending WAY too much on shipping (let's be real, it costs an arm and a leg to get ANYTHING sent from America) or buying items that may be fakes, or faulty. As an online shopping veteran, I'm here to sweep you up little dove, and show you the way of the smart online shopper.
If it seems too good to be true, it probably is…
I feel like the naughty little brat at school who goes around telling every other kid that Santa isn't real, and there is no magical bunny who hops into your house at night and leaves chocolate easter eggs. Unfortunately, as we grow up we realise all the magical wonders of living are now accompanied by bills, catches, and cons. Nothing is truly free, and similarly if an offer seems too good to be true, it probably is. Just like my Grandma, who believes the spam emails that tell you you've received $1000,0000,000 because your dead relative in Africa has left it to you are legit, most of us have fallen for an amazing deal online, that turned out to be not so amazing in real life. Any store that offers an item you know to be expensive, for an unbelievably cheap price is suspicious. The item is at risk of being fake, faulty or not even coming at all. Fortunately there are measures in place such as placing a PayPal dispute that allow you to report the fraud and often get an exchange or your money back. It's better we're aware and don't let it get that far in the first place though.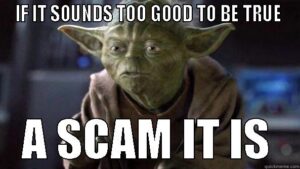 2. Buy one size bigger, just incase
I'm the first person to admit my ego gets in the way of logical thinking when it comes to sizing of clothes. I feel extra offended when a size 8 top won't do up around my body, and I refuse to admit in this particular item of clothing I'm a size 10 – "I KNOW I'm a size 8!!!" Not only is this common but it's actually quite normal. Many people are unwilling to grab a bigger size, even though they are aware that there are small makes, big makes and different sizing brand to brand. Unfortunately, when you're online shopping you don't have the option to have the mini-meltdown in the change room, you have to assume the sizes are true to their word and order what you usually wear. Frequently,