Warning: This is not spoiler free!
Season 6 of Game of Thrones has been highly anticipated for ages, but has it lived up to the hype? Did they deliver?
As a side note, this season deviates completely from the books because, well, there are no books. Avid readers of the book series A Song of Ice and Fire will have no insider knowledge. Brace yourselves because you probably won't be able to Netflix and chill to this season.
Breaking news: Jon Snow is still dead.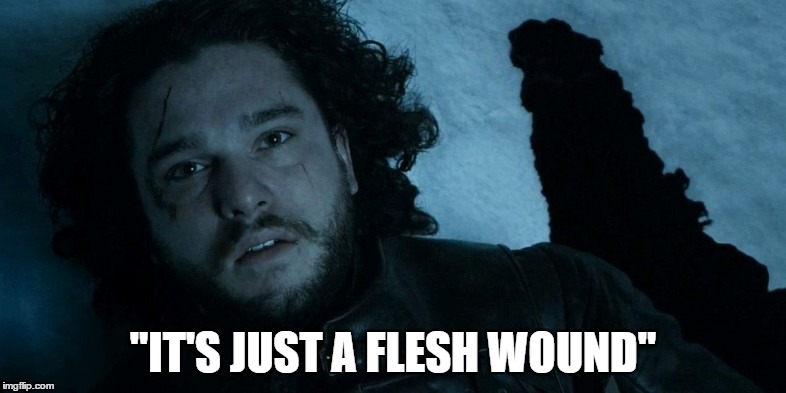 The episode picks up right where we left off nine months ago. As the camera slowly pans towards Jon in blood-stained snow, his eyes like frost and his skin ashen and stiff… it's safe to say he's dead.
I didn't want to believe it until Ser Davos finds his body after hearing Ghost howling, and Jon's loyalists proceed to carry the body inside. Even our favourite candidate for resurrecting our beloved Jon, the Red Woman, stood there, astonished and unable to do anything. 'I saw him in the flames fighting at Winterfell,' she said.
Davos hits it home with, 'I can't speak for the flames. But he's gone.' Right in the feels, Davos.
While Jon's stone cold state may change (like a few storylines from season 5), for now he is a solid 10/10 dead.
This episode has a lack of story density in the other subplots. The Night's Watch was the most fleshed out storyline whereas the rest of the episode consisted of rapid cuts from scene to scene, subplot to subplot. After revealing Jon's fate, it was hectic viewing from there.
We get two minutes to let Cersei mourn the death of Myrcella (brilliant acting by Lena Headey) and have Jaime vow to avenge their family.
We only get a glimpse of Queen Margaery in her cell, being told to confess by Septa Unella as she asks about Loras. Her concern for her brother is admirable even as she stews away in that dark cell.
There's only a few minutes of screen time in Meereen, where Tyrion and Lord Varys are having difficulties managing the people as they rise against Daenerys. The Sons of the Harpy are growing and so is lack of trust in their queen. There's also a tasteful baby-eating joke.
We are given a few minutes to say hello to our favourite masochist, Ramsay Bolton. His battle to take the North has been thwarted by Sansa escaping with Theon. And as he seems to mourn the death of his lover, Myranda, I almost felt sorry for him until, when asked whether she is to be buried or burned he says, 'She is good meat. Feed her to the hounds.' Ummm, what?
I did like how Sansa